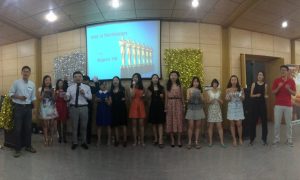 For non-native English speakers, speaking in English may feel awkward and unnatural. Competing at a speech contest with a goal to win can be daunting. However, taking on that challenge and aiming for excellence could be a great thrill and provide an opportunity for personal growth in your Toastmasters experience. Indeed, speech contests provide golden opportunities to jumpstart and hone your speaking skills.
I visited the 2014-2015 Toastmasters International District 89 Division P Appreciation Party in Chengdu in south west China. Toastmasters in this area has grown dramatically. Division P, covering Chengdu, Chongqing and Kunming, has become the largest division in District 89. As a guest speaker at the Appreciation Party, I presented a keynote with the same title as this article. Most of the audience were in their 20's and 30's, and the majority of them were non-native English speakers.
Chengdu is my hometown where I spent 20 plus years of my youth. As a non-native English speaker, I was fortunate to win 3rd place of 2015 International Speech Contest (District 50, covering East Texas and northwest Louisiana). It's always an honor for me to give back to the next generation by sharing the important lessons I've learned about transforming from Accent to Excellence.
1  Love Your Accent
No matter where you were born, you should love your accent. Your accent is your trademark that reflects who you are and where you came from. Never feel bad about your accent if English is not your native language. Instead, work to add enough of the English sound system to your own English speaking. In my case, since I grew up in Chengdu in southwest China, I involuntarily have the southern Chinese accent when I speak English. During my earlier years of speech contests, my voice was 'choppy' due to lack of linking words together, dropping consonants and missing vowels. My audience would have a hard time comprehending what I was saying. As a contestant, your accent is not the problem. The problem is that your audience may not understand you because of your accent.
2  Speak Like a Singer
How do you fix your accent so that your audience can understand you and enjoy your message? The secret is to treat each contest speech (only 5 to 7 minutes) like a piece of music. In other words, you should speak like a singer. Do you notice that non-native English speakers have less accent when they sing English songs than when they speak in English? It took me more than 10 years to figure out the reasons. Here are my lessons learned:
Singing reduces the native accent to a large extent. Accent has a lot to do with rhythm, stress, intonation and linking. When you sing you must follow the music's rhythm, stress and intonation rather than your natural accent.
Singing improves the clarity of pronunciation. When you sing you slow down the pronunciation of each word and exaggerate the vowels. Before you sing a song in front of an audience, you normally practice the song tirelessly off stage or even in your shower, trying your best to pronounce each word clearly and perfectly.
Singing creates better voice projection and fluidity. When you sing, you break up the old habit and switch to different muscular movements similar to the native English speakers. The change of muscular movements results in better voice projection and fluidity.
Understanding why singing reduces the native accent is very valuable. With determination, practice, and coaching, you can transform yourself into an effective speaker regardless of your accent!
3   Make Your Audience Laugh 
If you want to become an effective speaker, you must learn the art of making your audience laugh. Humor connects you with your audience and makes them want to hear your message. Speech contests can definitely hone your humorous skills. As a person without a funny bone, I used to struggle with how to apply humor in my speeches. In order to learn the art of humor, I picked up the advance manuals such as "The Entertaining Speaker" to finesse my skills one project at a time. Additionally, I forced myself to compete at Humorous Speech Contests. Gradually I have figured out how to develop, apply, and deliver humor in my speeches. While working on the 2015 International Speech Contest, I applied humorous techniques, such as self-deprecation, exaggeration, and twisted definition. My stories generated big laughs and contributed tremendously to my winning from club to district levels. You don't have to be a comedian. With practice, you can learn effective humorous techniques.
4   Talk About What Matters to Your Audience
During my earlier years of competition, I selected topics that I was passionate about. However my content was too foreign and complex for my audience and the judges to appreciate. Gradually, I have learned how to select my topics.  The winning topics should be what you are passionate about and what you know the most. More importantly your topics should be what matter to your audience. In my 2015 international contest speech "Keep Walking," my topic was about courage when facing life storms such as divorce, job loss, and sickness. Everyone in the audience could relate to that topic. As one fellow Toastmaster told me: We all have moments in life when we 'felt like an egg dropped on the floor.' She was referring to a key line from my contest speech. As a speaker, it's not about you but what you can do for your audience. This principle not only applies to contest speeches but also to your presentations inside or outside the Toastmasters organizations.
5  Consult with Fellow Toastmasters 
There is a Chinese saying: "Traveling with three persons, you can always find yourself a teacher." Traveling with fellow Toastmasters, you will find many wonderful teachers and mentors who will help you. While preparing for my contest speeches, I often sent scripts and video clips of my contest speeches to experienced Toastmasters for feedback. They provided valuable and honest suggestions. For example, for years, I didn't like my voice when I watched the videos of my contest speeches. My voice was harsh and unpleasant. I couldn't figure out how to fix it. Then my longtime friend and mentor, Mrs. Phyllis Thesier, MAT, CCC-SL, who specializes in accent management, provided me a life saving tip:"Lia, talk like a princess!" Her tip has made a day-and-night difference on how I present, position, and project my voice during contest speeches. Today, I often remind myself to soften my voice by "talking like a princess" even when I'm on phone calls. Drilling and perfecting details in your speech development and delivery with the help from others will enable you to transform your speaking skills from good to great.
​
6   Have a Positive Attitude 
Competing at speech contests not only sharpens your speaking skills it will also test your attitude. Zig Ziglar once said: "Your attitude, not your aptitude, will determine your altitude."  As a non-native English speaking contestant, I have the "disadvantage" of competing in my home District 50. D50 is a strong district with many fantastic and experienced contestants who are native speakers. I have to work extra hard in order to win at each level of contest. If you find yourself in a similar situation, you will need to have a positive attitude for competing. As a contestant, winning a trophy is cool yet it may not happen very often. The amazing benefit is you will definitely improve your speaking skills every time you compete. More importantly, you have the privilege to make a positive impact on your audience whether you win a trophy or not.
Confucius once said: "The will to win, the desire to succeed, the urge to reach your full potential… these are the keys that will unlock the door to personal excellence."  Competing at speech contests is a great exercise for you to strive for excellence in all aspects of your speech development and delivery. I can't guarantee you will win a trophy every time you compete.  However, you do become a better speaker every time you compete. Regardless of where you were born, you are on your way to transforming yourself from Accent to Excellence if you keep competing.
May these tips eliminate detours and accelerate your journey to becoming an effective and competent speaker. Again, my special thanks to Toastmasters at Division P for having me at your Appreciation Party!